We'll miss ... hating you. And not in a racial way, you egomaniacal sack of crap.

As casual fans far removed from the players of our beloved team, we bloggers feel entitled to express
certain negative emotions
about those who catch our disdain. This is fine, because of several reasons.
(a) Outside of our general lack of seriousness, we realize that these are human beings who we will likely never meet and who will never read this blog.
(b)
Hustler v. Falwell
sets a pretty high bar for parody of public figures, which such luminaries as Milton "
I'm an asshole who doesn't pay rent
" Bradley, certainly qualify as.
(c) At the end of the day, if Aaron Miles had his feelings hurt, he can take solace in the fact that I made far, far less than $2.2 million. Even if I did do a much better job at my place of employment (ba-zing!).
Aaron Miles: Looks like a gym coach, hits like a gym coach. Probably a nice guy.
Our favorite activity in this vein is called
"So Long, Suckass."
It's a fitting sendoff to players we'd rather see in an Astros uniform than blue pinstripes. We've gotten away from it in the offseason, probably because we were sick enough of the team at the end of the year to quit our usual obsessive monitoring of team news. But no longer, dear readers. Hope springs eternal, as does frustrated rage. To help send off the literal crapload of disappointing players that have left since last we sent off a suckass, we've recruited some of our Cubs blogger friends.
Enjoy catharsis, after the jump
Aaron Heilman - RP




Heilman being Heilman, to the dismay of the ticketholding Cubs fans.



Key Stats: Cut his ERA over 1.10 from 2008 numbers, and still sucked tremendously. Led NL relievers in chins.

"In this age of heart-healthy eating, we never embraced the signing of Aaron Heilman, better known as the Mayonnaise King. His inability to locate his pitches and take control of 5th starter spot was the nail in his northside coffin. That said, his ability to mix oil, salt, and vinegar or lemon juice while using egg yolks as an emulsifier to make a white/yellow condiment should go over well in Arizona."
- The Ted Lilly Fan Club

"I'm still trying to forget"
- Waxpaperbeercup

"Even though I love your mayonnaise, and I predicted correctly that you would be the fifth starter for the 2009 World Series Championship Chicago Cubs, I will miss the fact that whenever you came into to relieve I had the knowledge that it was okay to turn off the game and know for certain the outcome of the game (which would of course be a loss)."
- Ginger Russ, College of Idiots

Aaron Miles - INF






Worst "Ghost Ride the Whip" Ever. Ever.



Key Stats: .185 average in 2009 makes his Baseball Reference comparison score closest of all Cubs to John's high school career numbers. Ambushing a kidnapper story still pretty cool.

"If if wasn't for your horrible batting, I might have never started the Andy White Fan Club, which I of course shamelessly ripped off from Desipio and then went onto successfully plug by calling out Cubbie Julie from A League of Her Own."
-Ginger Russ, College of Idiots

"LaRussa was actually upset when he left St. Louis? Must have been a hoax."
- Waxpaperbeercup

Kevin Gregg - CL






Dancing: Something else Gregg does poorly.



Key Stats: Ranked first among NL Central pitchers in inducing heart attacks in apoplectic fans. Generally pitched like shit. Gave up 1.7 HR per 9 innings, which seems low to those who saw him pitch.

"A classic firsty-firsty. At least now I will finally be able to prove to the world how horrible a decision putting the Marmot in as closer will be. Err...I won't be proving it, Carlos will do it himself."
- Ginger Russ, College of Idiots

"See: Aaron Heilman"
- Waxpaperbeercup

"Dear Kevin Gregg-
I don't know who could ever replace you. Yours are big shoes to fill. Who else could the Cubs find that:

1) Has two first names.
2) Can...uh...pull off wearing goggles.
3) Have a pitching delivery that resembles the motion of a pitching machine.

We will survive. And if you need any help moving, the guys from Ivy Envy would be glad to lend a hand"
- Corey, Ivy Envy

"Truthfully, we have a soft spot in our heart for the Goggled One and wish that he was still on the squad. We just hope that he doesn't end up pitching for Jose Offerman in the Dominican Republic Winter League."
- The Ted Lilly Fan Club

Milton Bradley - RF






If only the ivy had finished the job.



Key Stats: Led the league in accusations of racism - the only category in which he performed above average during 2009. Regarded around the league as a 5-tool player, in that he brings the superhuman douchebaggery of 5 regular douchebags.

"Great talent, but the guy is a train wreck. The countdown is on until the meltdown in Seattle."
- Waxpaperbeercup

"If I said anything bad about Bradley, I'm sure he would just call me a racist, but here goes anyways. In a year that saw the above players and more compete for the COI Idiot of the Year (http://www.collegeofidiots.com/2009/10/coi-idiot-and-hero-of-year.html), you still ran away with the vote. Congratulations!"
- Ginger Russ, College of Idiots

"We recommend Anger Control Treatment & Therapies, located at 651 Strander Blvd., Suite B-120 in beautiful Tukwila, WA"
- The Ted Lilly Fan Club

Neal Cotts - RP






Is there a crappier lefty releiver in the game? If so, they're probably named Kevin Cotts-Ohman.



Key Stats: At one point, late during a close game with the Cardinals early in the year, was brought on to face 9-1-2. He proceeded to throw 8 straight pitches outside the zone. This event singlehandedly gave pitching coach Larry Rothschild hemorrhoids.

"Must be nice to be left-handed."
- Waxpaperbeercup

"Take the #3 King Drive Bus down to the South side where you belong."
- The Ted Lilly Fan Club

"At least you got injured half-way through the season so you didn't embarrass yourself like these other Idiots. That's a good thing I guess."
- Ginger Russ, College of Idiots

Chad Fox - RP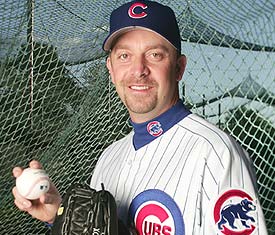 Why no action shots? Oh, you don't want to see that.



Achieved the "So bad it's good" level, a designation rarely awarded to anything other than the films of Steven Segal.

"1.35 ERA is pretty impressive. Why didn't we keep this guy? Wait, I forgot to carry the decimal a couple places. Oh, THAT's why!"
- Ginger Russ, College of Idiots

"I'm sure he's got a couple more comebacks in him."
- Waxpaperbeercup